We're Getting Mutants in the MCU - The Loop
Play Sound
Ernesto Fonseca Carrillo, commonly referred to as Don Neto is a Mexican former drug lord, and one of the co-founders of the Guadalajara Cartel; along with Miguel Ángel Félix Gallardo and Rafael Caro Quintero.
He was found guilty of taking part in the kidnapping of DEA agent Enrique Camarena, and was sentenced to 40 years of jail time. He is the uncle of Amado Carrillo Fuentes, another drug smuggler and the former leader of the Juárez Cartel.
Biography
[
]
Early smuggling career
[
]
Fonseca Carrillo was already a veteran drug smuggler in Mexico by 1980, and garnered more respect than his boss, Pedro Avilés. It was due to this respect that Miguel Ángel Félix Gallardo wanted the former to accompany him in his mission to create a syndicate of all Mexican marijuana smugglers.
Guadalajara cartel
[
]
In 1980, Avilés called a meeting after a military incursion into their weed farms during Operation Condor. As the members of Avilés' organization faced the brunt of their leaders for doinng nothing to circumvent the military incursion, Miguel Ángel Félix Gallardo suggested moving the farms to the urban center of Guadalajara to avoid military raids by partnering with the Naranjo brothers; the people who controlled smuggling in Guadalajara. Félix also wanted to unite all independent weed smugglers under Pedro, creating a unified drug cartel to control weed prices. Don Neto mocked the idea, but however Avilés was impressed. Félix Gallardo said that he needed Don Neto's help in making the deal with the Naranjo brothers, angering Neto.
Neto indignantly viewed the trip to Guadalajara as a vacation, and slept throughtout the journey after consuming all the beer purchased by Félix's friend Rafael Caro Quintero. After dropping Caro Quintero at the university, Félix and Fonseca met Hernin Naranjo at the Hotel Americas. Naranjo coldly rejected Félix Gallardo's proposal, and ordered them to run off back to Sinaloa. Without saying a word, Félix shot and killed Naranjo with his pistol. Neto, unaware of Félix's intentions to kill Naranjo yelled in surprise and decided to head back into the countryside while Félix waited for Rafael. However, he was apprehended by the Dirección Federal de Seguridad before he could leave, along with Miguel and Rafael.
Félix Gallardo convinced Tomas Morlet to take them to Juan José Esparragoza Moreno, a corrupt DFS commander who was involved in an alliance with the Naranjo brothers. There, he presented Rafael's sinsimelia to Esparragoza Moreno, who was quickly impressed by the quality, and decided to work with Félix Gallardo. The DFS provided them with a massive plot of land, which Caro Quintero transformed into the Rancho Búfalo, a massive weed farm.
Neto began appreciating Félix Gallardo's plan, and introduced him to his nephew, former DFS officer and pilot Amado Carrillo Fuentes. Amado, Ernesto and Miguel then travelled around Mexico, bringing in new smugglers into the federation. During this time, Neto and his nephew try cocaine for the first time, starting their addiction. Félix Gallardo arranged a meeting with all the major smugglers and the DFS, to officially begin the confederation. However, Pedro disagrees with Pablo Acosta being in the cartel, and had him thrown out of the alliance. Fearing that Acosta could undercut their business, the Arellano-Felix brothers follow suit, leading to the break up of the confederation before it began. Pedro then forcibly took Miguel home to kill him for being an upstart.
Salvador Osuna Nava, the Director - General of the DFS, appreciated Félix's idea, and felt that Pedro, being the only obstace, should be removed. Osuna Nava met with Neto, gathered a Jalisco State Police force to intercept Pedro's convoy. Avilés is killed, and Miguel became the leader of the Guadalajara Cartel.
Over time, Fonseca Carrillo began to amass huge amounts of wealth, and lived a life of luxury. He served as mediator in disputes between Amado and Rafael, and purchased the entire Tijuana City Police to wage war against Alberto Sicilia Falcon. After Rafael staged a false kidnapping of his lover Sofia Conesa, Félix had Neto hide Rafael as Sofia's father, a powerful politician launched a manhunt for Rafael. In 1984, Félix wanted the organization to focus on cocaine instead of marijuana. Neto and Amado supported the move, while Rafael didn't.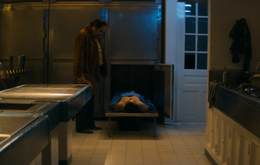 Fonseca's son, Gilberto is accidentally killed by his friend; and Fonseca visited the killer's house and spares him, but however, sends his right hand man Sammy Alvarez to kill him because his conscience didn't allow him to spare the killer of his son. He then began building a mausoleum for his fallen son.
After finding out that Alvarez began working for the DFS, Ernesto angrily stormed over to Rafael's house, and found out that he had ordered the kidnapping of Enrique Camarena Salazar, the American DEA agent responsible for the raid on the Rancho Búfalo. He chides Rafael for falling ploy to the DFS. He is the first one to inform Félix Gallardo about the kidnap of the agent. As Félix Gallardo rushed to 811 Lope de Vega to talk Rafael out, Fonseca tells Félix Gallardo to start over again, without the "snakes" such as the politicians and the DFS. However, Félix Gallardo changed his mind and gave the command to begin torturing the DEA agent for information.
Arrest and imprisonment
[
]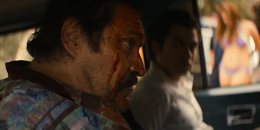 The DEA agent is tortured and murdered, beginning a massive manhunt for the leaders of the cartel by the federal government of the United States of America. Caving in to American pressure, the Mexican President appoints Guillermo Calderoni to oversee operations to capture the leaders of the Guadalajara Cartel, with Neto being one of the targets. Neto meets with Félix, and advices him to flee. He also informs that he will not be going to the countryside to hide, but instead to the beach to experience the last taste of hedonism. He moves to a large beach house with his entourage, and began partying. Félix Gallardo informed him that he is giving away the location of Caro Quintero to the police for their safety.
Félix Gallardo used the help of the Sinaloan governor Leopoldo Sánchez Celis to hide, but is eventually caught by Calderoni. At gunpoint, he makes a deal with Calderoni, in which he agreed to give up the location of Neto and several tapes of Camarena's interrogation in exchange for his release and Calderoni's safety. Calderoni agreed, and the police raid Fonseca Carrillo's manor. Fonseca expected Félix Gallardo to betray him, and is taken away by the police along with Alvarez.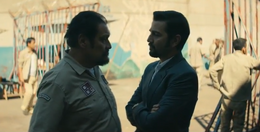 Félix hoped that Neto didn't take the betrayal personally, and regularly had liquor delivered to Neto inside the prison; despite Neto showing no interest in reconciling with Félix. In 1986, Félix visited Neto in prison after the arrest of Rubén Zuno Arce and sought advice after the DEA began clamping down on his organization. Neto told him to give the Americans what they wanted by surrendering, and sarcastically implied that he would be devoured by Rafael inside a prison if he does so. Neto later found out that Félix had betrayed Juan Matta-Ballesteros in order to strike a deal with the CIA, which would throw the DEA off his back.
In June 1993, El Chapo was arrested for his involvement in the Guadalajara International Airport shootout and was imprisoned in the same prison as Neto. Neto took in Chapo as his protégé and helped him adjust to prison life. Neto explained the intricacies of Ismael 'Mayo' Zambada's plan to take down the Arellano-Félix family by going after the numerous independent traffickers allied to the Tijuana cartel. The duo were joined by Héctor Palma Salazar after his arrest in June 1995. Palma's charisma made him extremely popular among the other in-mates and had opinions which were conflicting with Chapo and Mayo's plans for the Sinaloa cartel. After Neto pointed out that Chapo could never truly lead the cartel if Palma was around, Chapo had Palma relocated to a newly built prison. However, Neto was stunned to learn that Chapo wanted Neto to join Palma in the new prison, as he was concerned that the prison in-mates would not take him seriously if he had Neto constantly whispering on his ears.
Fonseca Carrillo was sentenced to 40 years in prison. He was later placed under house arrest due to his old age and ill health.
Appearances
[
]