Wiki Targeted (Entertainment)
Play Sound
Hélmer Herrera (1951 – 1998), also known as Pacho was a Colombian drug trafficker and the head of distribution and security for the Cali cartel.
Herrera joined the Cali cartel in the early 1980s, and immediately rose to become one of the four leaders of the cartel. By 1986, the cartel leadership trusted him to independently lead negotiations with other drug cartels, such as the Medellín cartel and Guadalajara cartel. His feud with Guadalajara cartel was one of the factors which led to its disintegration in 1989. In the early 1990s, Pacho led the Cali cartel in a war against Pablo Escobar. During the conflict, he financed the Los Pepes death squad which targeted Escobar and his associates. He simultaneously took over Escobar's business in Miami, which eventually led to Escobar's death in 1993. In the meantime, he cultivated strong links with Amado Carrillo Fuentes of the Juárez cartel.
After the fall of Escobar, Herrera led a war against the Cali cartel's former ally, the Norte del Valle cartel. Herrera's life of crime came to an end when he surrendered to General Serrano of the Colombian National Police in 1996. He spent two years in prison, devoting his life to football, before he was eliminated by sicarios sent by the Norte del Valle cartel.
Hélmer Herrera was born on August 24, 1951 in Palmira. He had a younger brother named Alvaro. He was a homosexual. Sometime during his adolescence, his father found him in his room with another boy. His father harshly scolded him, telling him that he would never be a man, and refused to speak to him ever since. He lost his self-confidence for years after that incident.
In the late 1970s, he joined the Cali cartel, and quickly became a big earner. However, the cartel's other partners mocked him for his sexuality, and insisted that he be removed from the cartel. In response, the cartel leaders Gilberto Rodríguez Orejuela, Miguel Rodríguez Orejuela and José Santacruz Londoño decided to make Herrera the a leading partner. Pacho regained his confidence after this, and considered the cartel leaders as his only family.
Feud with the Guadalajara cartel
[
edit
|
edit source
]
In the early 1980s, Miguel Ángel Félix Gallardo, the leader of the Mexican Guadalajara cartel approached the Cali cartel, offering to smuggle cocaine through Mexico instead of the Caribbean. Pacho forced Félix to pay for the bribes and transportation through Mexico in order to have the cartel use his services instead of Alberto Sicilia Falcon's.
In 1985, the United States shut down the US-Mexican border after Félix's associates murdered an American DEA agent. The border shutdown increased drug seizures, and prevented the flow of money back to Colombia, making the Cali cartel unable to pay the Mexican traffickers. Next year, Juan Matta-Ballesteros arranged for Herrera to visit Félix at his birthday celebration. When asked about the unpaid dues, Herrera replied that the decision to kill a DEA agent inside Mexico was moronic, and Félix had brought everything down upon himself, and arrogantly told him that the Cali cartel would not be paying for Félix's.
In 1988, Herrera found out that Félix created an alliance with Juan Nepomuceno Guerra, the leader of the Gulf cartel, in order to force Herrera to the negotiating table again. Herrera then made a separate deal with Guerra without Félix's knowledge. Herrera and Félix agreed to meet in Panama. Herrera stunned Félix by telling him that Guerra wouldn't be joining the meeting as they had already finalized a deal. In order to keep his organization relevant, Félix told him that he wanted to smuggle 70 tons of cocaine in one go. Herrera, while being skeptical, agreed, hoping to humiliate to Félix if he messes up. When asked about who would deal with transport after Félix had Matta arrested, Herrera was introduced to Amado Carrillo Fuentes.
Félix eventually succeeded in delivering the 70 tonnes of cocaine, but then tipped off the DEA about it, resulting in the Sylmar warehouse bust which resulted in the Cali cartel losing about 20 tonnes of cocaine worth $7 billion. Félix then forced Herrera to meet him, this time in Guadalajara, and warned him that if their earlier deal isn't changed, incidents like Sylmar would increasingly occur. Félix wanted to enter the cocaine retail business, and wanted to be paid in cocaine instead of cash for smuggling the Cali cartel. Herrera recognized that this would drive his organization out of business, and demanded more time from Félix.
Herrera was later approached by Benjamín Arellano Félix, one of Félix's partners who wanted to break away from the cartel. He agreed to be paid in cash instead of cocaine, so Herrera struck a deal with him to continue smuggling Colombian cocaine. He also signed similar deals with Félix's other major partners, including Carrillo Fuentes, resulting in the break-up of the Guadalajara cartel, and Félix's arrest in 1989.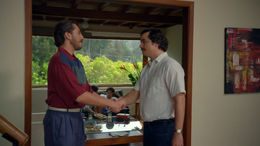 In 1990, Herrera met with high-ranking members of the Medellín cartel, including Pablo Escobar and his cousin Gustavo Gaviria. Herrera expressed support for Pablo's campaign against extradition, but expressed his concern over high-profile terrorist incidents such as the Avianca Flight 203 bombing ordered by Escobar, which contrasted with the low-profile doctrine of the Cali cartel. Escobar reacted negatively, and warned Pacho to not killed due to his arrogance. Despite the hostility, both parties agreed to work together against extradition.
However, the alliance was short-lived, and disputes between the control of Los Angeles arose between the cartels. Pacho met with Escobar's mistress Valeria Velez, and he charmed her into unknowingly giving away Escobar's location. Pacho ordered the bombing of the Monaco building, where Escobar hid with his family. The bombing attack was unsuccessful, as Escobar escaped unhurt, but the bombing caused his daughter Manuela to permanently lose her hearing ability in one ear.
In order to dismantle Escobar's cartel, Pacho met with Jorge Luis Ochoa Vásquez and his younger brother Fabio; senior members of the Medellín cartel. Pacho informed them that there was gossip about their sister Marina involved in an affair with Escobar's cousin and right-hand man Gustavo Gaviria. He also warned them that Escobar could betray the brothers by not including them in his surrender plan. When the brothers confirmed the rumours, they met with Herrera in Cali and asked his help in negotiating a surrender with corrupt counter-narcotics chief Jaramillo. Pacho accepted their request, only after the brothers agreed to allow Jaramillo to use their sister as a bait to kill Gaviria. With Pacho's help, the Ochoa brothers were given a minute sentence for illegally importing animals from Spain and had drug trafficking charges against them dropped. Gaviria was shot and killed by Horacio Carrillo and his team of vigilante police officers.
Escobar learnt from Valeria that the Ochoa brothers had several meetings with Herrera in Cali, in retaliation for Gustavo's murder, Escobar sent his hitmen Poison and Lizard to assassinate Pacho while he was playing a game of football in Cali. As Pacho wore the same uniform as his men he managed to escape the scene, however the attack led to the death of 14 Cali cartel members.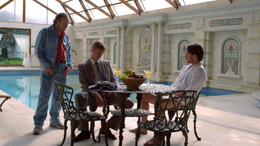 Herrera later had Navegante approach his DEA contacts Javier Peña and Steve Murphy, but the Americans turned down the offer. Herrera later obtained photos of the La Dispensaria raid in which several civilians, along with Poison and Lizard were killed by the Search Bloc. He had Navegante kidnap Murphy and bring him to his ranch in Cali, where he attempted to blackmail the DEA agent into collaborating with the Cali cartel by threatening to expose Murphy's role in the raid. Murphy stood his ground, and declined, and warned that after the DEA were done with Escobar, the Cali cartel would be their next target, and walked away.
The violence between both cartels persisted after Escobar surrendered to the Colombian government in 1991 and was imprisoned in his private prison. In 1992, Herrera met with two high ranking lieutenants of Escobar; Gerardo 'Kiko' Moncada and Fernando 'Wolfman' Galeano to settle their disputes. Herrera agreed to settle the dispute over Los Angeles for $3 million, but Kiko raised the price to $10 million. However, under Escobar's orders, Kiko tripled the price to $30 million.
In 1991, Escobar surrendered to Eduardo Sandoval after the newly-elected President César Gaviria's government repealed the extradition treaty with the United States. As part of his surrender deal, Escobar was confined in the La Catedral, a private prison designed specifically per Escobar's demands. Violence between both cartels subsequently began to dry down, despite the Cali cartel attempting to assassinate Escobar a few times.
On 22 July 1992 Escobar murdered Kiko and Galeano after he suspected them of stealing from him. The murder was discovered by the DEA, and the story was leaked to the Colombian press, prompting a political crisis in Colombia. Gaviria wanted Escobar to be moved to a conventional prison, but Escobar refused so, fearing that he would be extradited. This resulted in Gaviria order the La Catedral siege, which ended with Escobar escaping the prison and returning to Medellin as a wanted fugitive.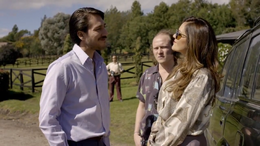 Kiko's wife Judy Moncada swore revenge against Escobar for murdering her husband, and along with her brother Jaime Mendoza and Escobar's head of security Diego Murillo Bejarano broke away from the Medellín cartel. With help from the Los Priscos gang, Escobar succeeded in killing Mendoza.
Judy approached the Cali cartel for their assistance in taking down Escobar. She met with Gilberto and Miguel at Pacho's ranch, and offered the location of Escobar's labs in exchange for the Cali cartel manpower. The Cali cartel instead told her to reveal the locations of her labs as they knew that Escobar was planning to dismantle her cartel piece by piece. Gilberto convinced her to reveal the locations of her labs to the Search Bloc, so that the police could kill Escobar's men who were sent to takeover Moncada's plan. Judy reluctantly agreed and sacrificed her biggest lab, which resulted in Colonel Horacio Carrillo killing Gato, one of Escobar's top lieutenants.
With Escobar on the run and Colonel Carrillo clamping down hard on the Medellín cartel, Gilberto ordered Pacho to discreetly take over Escobar's Miami operations without Judy's knowledge. Pacho jokingly suggested to turn Judy over to Pablo, and dump her in the same ditch as Pablo.
The AUC, a far-right paramilitary group decided to fight Pablo Escobar due to his earlier connections with the M-19 guerilla organization. The leaders of the AUC, Carlos Castaño Gil and his brother Fidel Castaño Gil set up a meeting with Pacho and Judy, and requested the creation of a vigilante death squad which would run with the Cali cartel's financing and Moncada's knowledge of Escobar's operations. Despite Judy's interest, Pacho refused as the ACU's violent methods contrasted sharply with the Cali cartel's low profile approach.
Gilberto's plan failed when Escobar successfully lured Colonel Carrillo into an ambush and killed him. Worried that Escobar would come after the Cali cartel, Gilberto had Pacho meet the Castaño brothers and agree to their death squad. This led to the creation of Los Pepes. Los Pepes was supported by Javier Peña without authorization, and succeeded in killing many of Escobar's top lieutenants, including Velasco and Jairo.
During his interrogation by Don Berna, Velasco revealed that The Lion is returning to Colombia to meet Escobar. Judy passed the information to Gilberto, who had Navegante kidnap him from the airport and bring him to Gilberto's house. Gilberto convinced The Lion to betray Escobar, and turn over his Miami operations to the Cali cartel instead.
Pacho was present at the wedding of Gilberto's daughter Marta when it was bombed by the Medellín cartel. After the attack, a distraught Gilberto swore revenge against Escobar and told the Los Pepes to intensify their operations. By December 1992, Pablo had lost most of his lieutenants and many of his labs were shut down.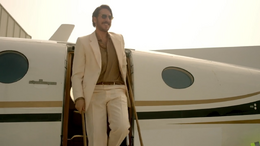 With Los Pepes attacks rapidly increasing, Pablo was forced to leave his family and go into hiding. Pablo's negotiations with Attorney-General Gustavo de Greiff came to an end after he ordered the 1993 Bogotá bombing. Using this opportunity, Pacho went to Miami and had Lion initiate his silent coup. He introduced Pablo's bankers, accountants and smugglers to Pacho, and all agreed to switch over to the Cali cartel. After taking over Escobar's Miami operations, Pacho had Navegante garrote Lion to death.
With the last of Escobar's labs destroyed in mid-1993, the Cali cartel decide to take over Medellín. They achieved this by having the Los Pepes surrender their arms, and then gifted a warehouse full of cocaine to the Castaño brothers and invited them to the cocaine business. The brothers, who were new to drug trafficking, hire Judy's right-hand man Don Berna to guide them, effectively ending Judy's claims over Medellín. Fearing that the brothers would try to kill her, Judy decided to be a DEA informant. Don Berna disapproved of her betrayal, and met with Pacho and the Rodriguez brothers. They decide to have Judy become an informant for the CIA instead, and told her to blame the DEA for the creation of Los Pepes for her safety.
Salazar conflict and death
[
edit
|
edit source
]
Pablo Escobar was gunned down by the Search Bloc on 3 December 1993, and Pacho, along with the Cali cartel leaders and the Castaño brothers held a celebratory party. The next year, Gilberto invited all their associates to his house, and announced that the Cali cartel would leave the drug business within 6 months and turn legitimate. This decision was shocking to many, including Claudio Salazar, the son of Gerda Salazar, one of the co-founders of the Norte del Valle cartel
Miguel, in an attempt to seize Claudio's wife Maria, sent Pacho to kill Claudio after Carlo Cordova played tapes revealing Claudio's alleged disapproval over the Cali cartel's surrender deal. Pacho had bad blood with Claudio, and gladly accepted to kill his rival. Pacho and his biker gang drove to the nightclub where Claudio partied, and gave him a bottle of wine, pretending to reconcile their differences. After dancing with his lover, Pacho smashed Claudio's head with the wine bottle, and tied him up to two motorcycles accelerating in the opposite directions, splitting his body in half. Further, Claudio's corpse bits were wrapped in chicken wire and fed to the fishes.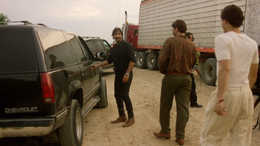 After Claudio's murder, Gilberto told Pacho to lay low in Mexico with Amado Carrillo Fuentes, now the leader of the Juárez cartel and one of Mexico's most powerful smugglers. Pacho and his brother Álvaro Herrera traveled to Juárez, where they were greeted by Amado. Amado also had Elias appointed as Pacho's caretaker, and soon Pacho began having a relationship with Elias. In Mexico, Amado unsuccessfully tried numerous times to convince Pacho to reconsider the surrender deal, as he felt that the newly signed NAFTA between the United States and Mexico would be immensely helpful for the drug trafficking business. He even went as far as suggesting Pacho to betray the brothers and form his own drug cartel, but Pacho refused to do so, saying that his loyalty always lay towards the Rodriguez brothers for accepting him into their organization despite his sexuality. While in Mexico, Miguel informed him that Gilberto was arrested by Hugo Martinez, and warned him to stay safe.
Orlando Henao Montoya, acting under Gerda's orders, spoke to Amado and agreed to be his chief cocaine supplier after the exit of the Cali cartel. As part of their deal, Amado gave away the location of Pacho's hideout in Mexico. Gerda sent a team of hitmen to kill Pacho and his brother, but Elias managed to warn Pacho of the attack before he was shot dead. Pacho managed to kill all the attackers, but his brother was severely wounded, resulting in the complete paralysis of his lower body.
After returning to Colombia, he swore revenge against the Salazar family. He started his quest for revenge by killing Norte del Valle cartel co-leader Ivan Urdinola Grajales with a car bomb outside a church. Miguel, who decided to scrap the surrender deal planned by Gilberto, gave Pacho the location of the Salazar family's ranch in exchange for his support against Gilberto. Despite Gilberto's orders to not get into conflict with the Norte del Valle cartel, Pacho and Chepe, acting under Miguel's orders, seize control of the Buenaventura port.
The Search Bloc arrested Miguel soon after, and Chepe and Pacho began contemplating their surrender. While Chepe immediately surrendered, Pacho decided to attack the Salazar family. He and his man killed all of Claudio Salazar's remaining brothers, and he personally executed Gerda after she taunted Alvaro. After the assault, Pacho went to a church where he was arrested by General Rosso José Serrano.
The Cali cartel godfathers reunited in prison, and then agreed to support Gilberto's surrender deal. However, after Javier Peña revealed the Cali cartel's links with President Ernesto Samper and defense minister Fernando Botero Zea, the ensuing political scandal Proceso 8000 destroyed all hopes for a surrender deal. While Chepe escaped from prison, Pacho decided to stay there with his boyfriend and spent most of his time playing soccer with the other inmates.
Seeking revenge for the extinction of the Salazar family, the Norte del Valle cartel sent a gunman to kill Pacho in midst of a soccer game. The gunman succeeded, and Pacho died on 4 November 1998.
Pacho was described as arrogant by both Miguel Ángel Félix Gallardo and Pablo Escobar. Pacho was usually passive aggressive and quite stiff while meeting new people, leading to Chepe Santacruz jokingly claim that Pacho hated meeting new people. Pacho gradually loosened up to trusted associates, as evident by his relaxed attitude towards Chepe and Amado.
Pacho was frequently seen wearing flamboyant silk shirts, and had a sizeable collection of motorcycles and sports cars with a particular affinity for Corvettes. He used his good looks to his advantage by charming women like Valeria Velez. Pacho also held grudges, as he refused to make amends with Claudia Salazar despite them being partners. While he did consider, the Rodriguez brothers has family, he did not shy away from choosing Miguel over Gilberto after the latter's arrest.
Pacho is the only character to appear in all the seasons of Narcos and Narcos: Mexico, having 25 appearances in total.
Community content is available under
CC-BY-SA
unless otherwise noted.